Useful Resources Officers
Emergency Call 911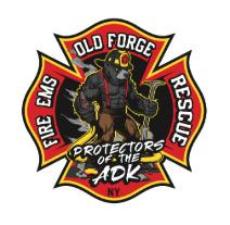 Welcome to Our

Website
At the Masonic Temple in Old Forge on May 18, 1907, twenty-one members of the community gathered together to form the Rescue Hook & Ladder Co. #1. This was the beginning of fire protection service in the Town of Webb. Today the Old Forge Fire Department is one of three departments providing emergency services in the Town of Webb Fire District. The other two departments are Big Moose and Eagle Bay Fire Departments.
The Town of Webb is the largest town in New York State at 482.9 square miles, with 1800 people residing in the township and calling the area home. Old Forge is a popular vacation destination all seasons of the year and during peak seasons the population is estimated to be around 35,000 people. With this influx of visitors to the area, there is also an increases in fire, rescue and EMS calls. These calls include anything from a small brush fire, a helicopter rescue off of the top of Bald Mountain, to a snowmobile accident when it's 20 below zero .
WKTV News Story about new Fire Boat.